Tengchong, located in southwestern Yunnan and surrounded by Gaoligong Mountain, is a town with rich cultural heritage and temptation.
In March, Tengchong embraces the most beautiful spring atmosphere and the lively scene of prosperity with all kinds of grasses and flowers. Whatever rape flower, rhododendron or meadow, they are calculated by million mus. Of course, you can see breathtaking camellia when you stroll in deep and quiet cultural lanes or farmyards with strong Zen breath.
Tengchong is a good place where it is worthy of travelling and taking a holiday in March.
When you arrive in Tengchong, you can arrange your vacation itinerary on a case-by-case basis. Here are some suggested attractions or attractions combinations: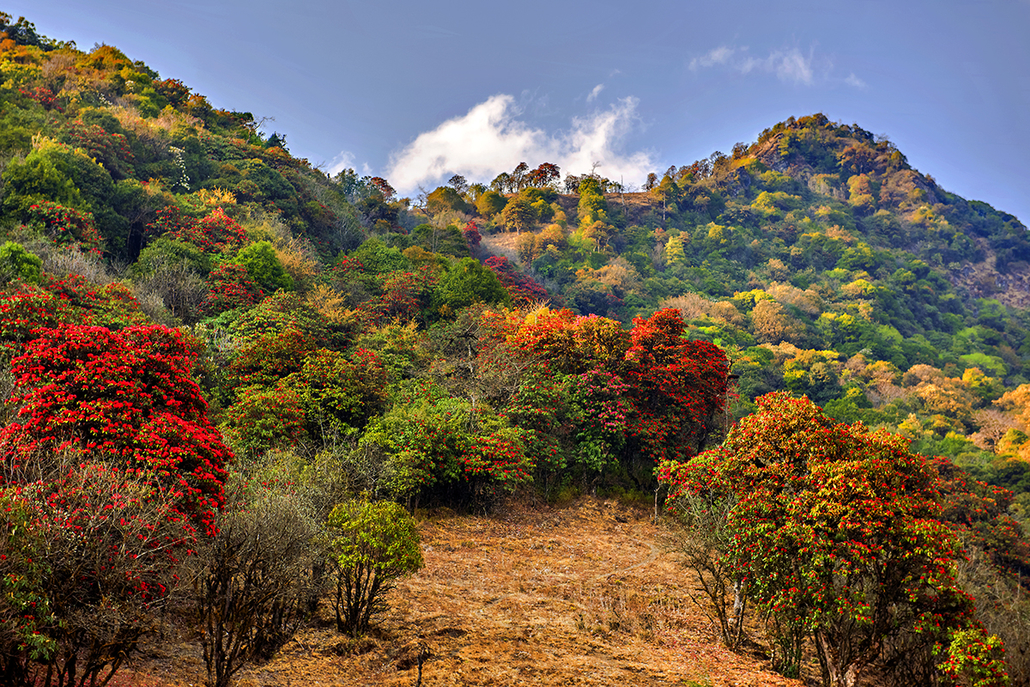 Heshun Ancient Town
When you arrive Tengchong Town, you can go straight to Heshun Ancient Town to find a favorite inn and arrange your accommodation well. After that, you can wander this ancient town with 600 years' rich culture. Of course, the fascinating points of Heshun Ancient Town are not only profound culture but also beautiful and harmonious rural scenery. Of course, there are wonderful sceneries such as old cattle and smoke, returnees and visitors in the twilight in Heshun Ancient Town. Later, in the night of the bars or the inns, you can experience a different nightlife.

Hemu Village-Volcano Park-Yunfeng Mountain- Ginkgo Ancient Village
Hemu Village is located at 10 km north of Tengchong Town. In March, thousands of hectares of camellia, of course, cannot be missed.
After strolling around flowers and enjoying a series of lunch with tea or tea oil element, you can go to Tengchong Volcano Park.
Tengchong Volcano Park, one of the four volcanic groups with area of 221.36 square kilometers, is precious heritage of mankind left by a quaternary volcanic activity. There are 99 volcano cones situating in the Town. The main attractions of the Volcano Park include Dakong Mountain, Xiaokong Mountain, black Mountain, Chengzilou Volcano, Heiyu River, columnar jointing and so on.
Then, you can drive to a famous Taoist Mountain Yunfeng Mountain described as Mountain of Immortals. The rolling mountains and misty straight peaks like bamboo shoots stretching to the clouds jump into your sight. A long time ago, some people, who are not afraid of danger, built temple on the top of the Yunfeng Mountain. From afar, you will have a feeling of the illusory beauty of fantasy. Therefore, Yunfeng Mountain has long been one of Tengchong wonderful scenery. Yunfeng Mountain, surrounded by misty clouds on the hillside, stands like piercing the sky. The whole mountain like a looming heavenly scenery. Climbing the peak of Yunfeng Mountain, regardless of view the sun, view clouds, view mountains, you will be so swaying and levitate your body soar.
After enjoying the beautiful mountain scenery, the afternoon arrives. Of course, it is the best experience to drive to more than 10 kilometers of Ginkgo Ancient Village and to enjoy delicious ginkgo feast under the old trees. Insides the Ginkgo Ancient Village are hundreds of trees that have three thousand years old and plenty of trees with several hundred years old. If you have seen the golden and beautiful autumn leaves, you must have not seen acres of scallions appearing in the eyes in the sunset.
After a delicious ginkgo dinner, you can have a rest in the nearest farmhouse. Of course, you also can drive to the city or Heshun Town to enjoy the quiet time in the city.
Acres of Rape Flowers
If you are often concerned about Tengchong Town, you will know the most popular online photo depicting a scenery that there are acres of brilliant golden rape flowers under snow-capped Gaoligong Mountain in the sun and in the breeze. There are acres of rape flowers of the line of Qushi Town –Jieshi Town under Gaoligong Mountain on the north of Tengchong. Of course, the rape flowers are located in the town of Jiang Ju Ancient Town with Xinzhuang Millennium traditional papermaking museum and other magical cultural treasures. Of course, if you are physically good and led by the professional leader, you can start from Jiang Ju Town to Gaoligong Mountain foothills to experience the Ancient Tea Horse Road with 2400 years old.

Hotspring
There are multiple choices for hotspring tour. The followings are some choices.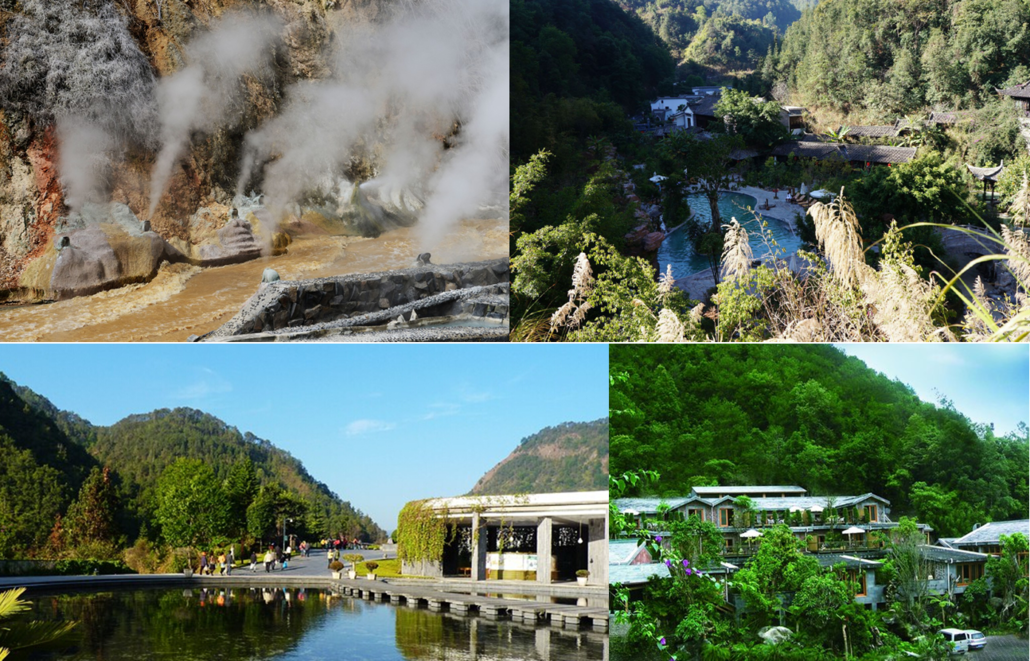 The Hotspring Dagunguo
If you are interested in this magical geological phenomenon, the hot spring Dagunguo is your best choice. The natural spring water temperature reaches 96.3 degrees which is very close to artificial boiling water temperature in Yungui Plateau. It is the second largest hot field of china, which is made up of Rehai stone, Dagunguo, bath valley, pregnant well, pearl spring, beauty pool and so on. It is a very enjoyable thing to eat and live in the hotel of hotspring scenic area. After playing in other scenic areas during the day, you can return to Rehai to enjoy foot bath, massage and spring bath at night. Then you will not be fatigue.
Sakura Valley Spring
Sakura Valley, located in the west of Gaoligong Mountain and the west bank of Longchuan River, belongs to Gaoligong mountain nature reserve. Sakura Valley get its name for frost-free all the year round, abundant rainfall and plenty of wild Sakura flowers. There are two forest springs the Fenglu pool and the Yunbi spring in the depth of the jungle. Hot springs are clear through the end with water temperature of 42℃ and excellent water quality. The fall head H=400 m of the Sakura valley from the gate to the valley bottom, which forms a typical alpine gorge landscape with Gaoligong mountain. The mountain is covered with pink wild Sakura and golden clover, which show four seasons.
Angsana Hot Spring Resort
Angsung Hot Spring Resort in Tengchong Town is located in the quiet valley adjacent to the western part of Yunnan Province with 28 hot spring soup rooms and 9 hot spring soup buildings with independent hot spring pool. There are 43 outdoor hot spring pools spreading. And the spacious Angsana spa gives guests a unique enjoyment. As the fourth Angsung Resort in China, Angsung Hot Spring Resort in Tengchong Town will embrace more diversity. Angsana Hot Spring Resort in Tengchong Town, Yunnan Province, inspired by traditional Chinese poetry painting, mainly highlights the characteristics of hot spring soup pool as the starting point of design to fully display the regions rich cultural traditions. The tall cornice building and the slate path extend in the garden.
Lotus Forest Hot Spring in Tengchong Town
The purity of Lotus is hidden in the farming culture of the simple folk. The net of Lotus is bathed in the quiet feeling of Central Plains culture. The purity of the heart cruises in the lotus, hot spring, blue sky and egret. The lotus hot spring under subtropical valley climate, located in the southwest corner of Tengchong at the east longitude 98°,the north latitude 25°with 1640 meters above sea level and the annual average temperature of 18℃. Its climate is characterized by cooler summer and warmer winter, combined with full rainfall all the year round, which is good to live. It enjoys Tengchong hot spring geothermal main vein facing years of volcanic platform after the formation of the marshes and the infinite scenery of the Daying River...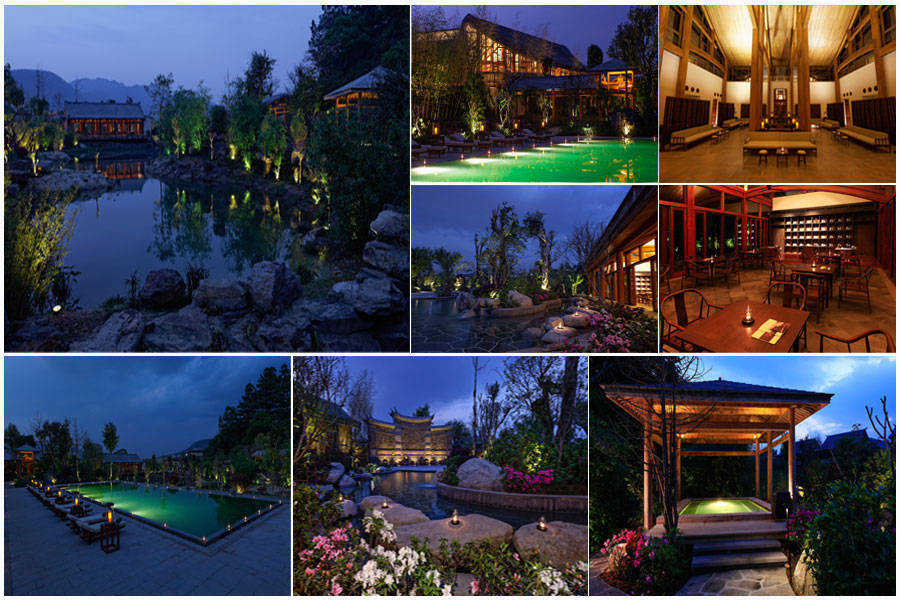 Tengchong Soldiers'Cemetery, WWII Museum

Soldiers'Cemetery is a place where travelers who arrive at Tengchong Town will travel voluntarily. Memorial Cemetery not only lays the creators and guardians who protect our peaceful life, but also lays faith and dignity of peace.


Local people in Tenghchong are proud of their tourism. There are so many attractions, one of which is He Shun Ancient Town, ranked the best of China's 10 most famous old towns. Other tourism attractions include the Soldiers' Cemetery, the WWII Museum, the Gaoligong Mountain National Reserve, volcanic parks, hot springs and Cloudy Top Mountain. Some of them are the magnificent work of nature. The architectures are made for memories integrated with history. Every inch of land represents the cultural diversity of Tengchong.

Tengchong, a small town having experienced a thousand years of people and life, receives the values and cultural traditions of the Chinese. It is now a landmark for China as well as for the world.
It is also the paradise of delicacies, hot springs, and meditations. It is, of course, also an extraordinary base camp for outdoor sports.

This is Tengchong. This is Mount Gaoligong.
They are welcoming your visit.